Much to my preteen self's dismay, Zack and Cody really didn't prepare me much for hotel living. They didn't prepare me for the buffets we would be treated to with the same curry, pap, and novelty desserts every single night. They didn't prepare me for the laundry switcharoos that happen on the daily, usually of the Lucy variety. The kindness of my favorite waitress or our cleaning lady who always leaves extra chocolates. And maybe I just wasn't watching carefully enough, but the show definitely didn't clue me in to how much of a home I'd find in our hotel and how much I'd miss our haven at Mountain Inn.
Mountain Inn is a funny place. The restaurant and breakfast area both play the same elevator tune on repeat, without fail, 24/7. There are a wide variety of paintings perhaps done by children, maybe done by guests, but all absolutely overpriced and hanging as makeshift art for the lobby and eating areas. It almost always smells faintly of smoke, but this has more to do with the fact that somewhere in Eswatini is always on fire (see Megan's post). At some point in time, probably pre-2000s, there was a putt putt course, but now mildly resembles broken sidewalk. The pool chairs refuse to lie flat, but provide a better view of the vaguely Spanish mission-style tiling of the walkway to the lookout point.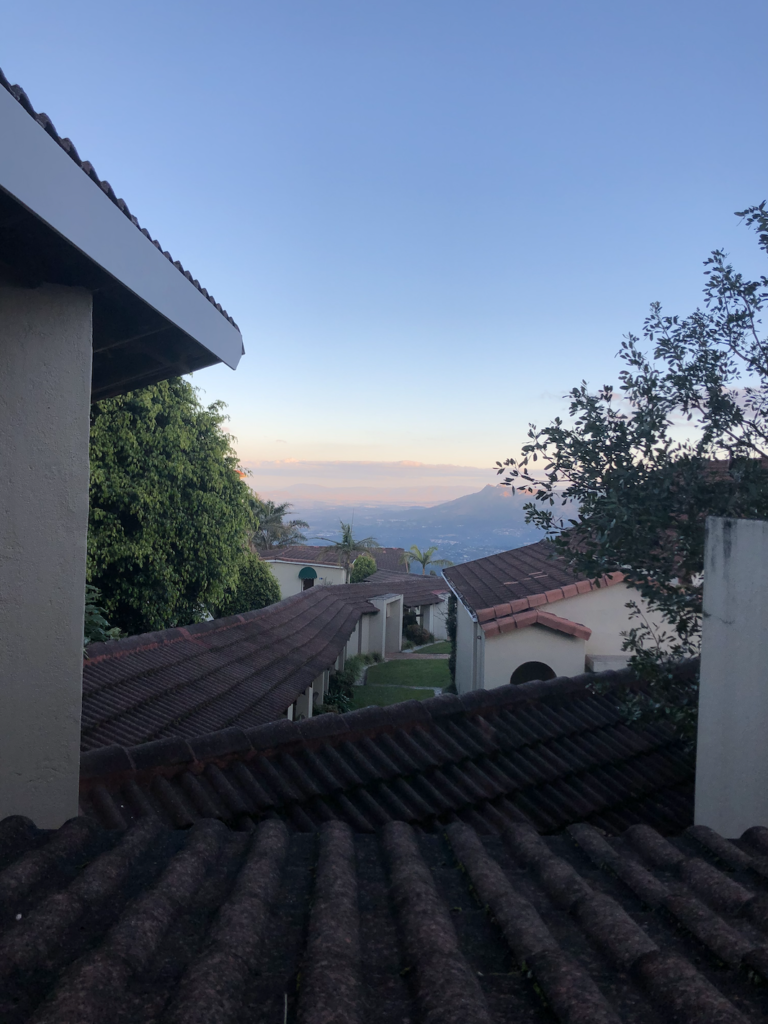 Jordan and I stayed in room 52. You need to insert the keycard slightly angled towards you to unlock the door and you need the key in the card to close the door, and by the end of our month, I picked up a bit of a habit of just leaving my key in the door so I wouldn't have to reinsert.  The shower had a bit of a flooding problem but only pooled every now and then. We were the self-proclaimed hangout room for about 2 weeks before we all buckled down and actually had to do work. One door down, Lucy and Helen share 51. 51 was full of vlogs, gossip sessions, and of course, a large selection of fruits. Downstairs, 50, 48, and 46 were home to Brooklyn Nine-Nine time for Jaz and Megan, Heeral and Kellen's horde of Mountain Inn chocolates, and really crazy dice games in Wanjiku's room.  
What I'm trying to articulate with my collection of random facts about a hotel is we really grew to love it there. Its little quirks were everything Swaziland taught me to love, from the slow pace to the random WhatsApp friends I've made with our waitresses. Of course the hotel was lovely and the view was beautiful, but the people, the country, and the little space we nine created for ourselves within it was special. This is it. My last blog post and tomorrow our projects are due at 5 pm, and 12 hours later, half the class will be on a plane to continue their travels. We've done some crazy things, seen some amazing places, and honestly, done way more work than I was expecting. When I think back about all the things we've done (remember when we pet a cheetah? wild) I can't help but laugh at how absurd this entire experience has been. The experiences we've shared are stories to last a lifetime and I'm so grateful to have shared them with these eight people that have made a home for me.
Thanks guys, cheers to our last day.