The word "Indaba" is one of the most frequently used words in our WhatsApp group. Where are we having class? Indaba. Where are we meeting to edit our videos? Indaba. Want to get lunch and work on our weekly assignment in Indaba? The Indaba room at Mountain Inn is a room that we all know too well, and have spent what feels like days on end inside.
I realised yesterday that I had no idea what the word means. I asked Julius the gardener this morning on my run what it meant and he replied "A story." I smiled. This seems like the perfect word to call the room. The PATH project group have spent the past 4 weeks coming up with many different ways to tell the story of our project in Indaba. The story we have right now is not the story we started with. In fact, we spent a while scratching our heads together to decide what our narrative was going to be. We wanted so badly to have our film open the UN High Level meeting in September, but did not want to compromise on our artistic vision and create a generic stock photo public health video that has been made a million times before. We needed to think of a way to create something we are proud of and that also meets the brief of PATH, our partner organisation. Not an easy task. Our video is about Universal Health Coverage and what a world with UHC would look like and the steps needed to get to it.

The first part of our creative process was to come up with an idea. We took inspiration from a Nike advertisement with Caster Semenya that rewinds through time to show her journey to being the runner that she is today. We decided to start in the future and show what Universal Health Care would be in 2035 and then rewind through the main character's life. During the rewind, we see the steps to get to universal health coverage, and hear a moving voiceover. The ending initially was to end with our main actress as a child looking directly into the camera. During our process, we had feedback that suggested it would be better to feel more connected to our main character by providing a reason for her to be more invested in UHC and her future. So the group decided to flash back to the future and show that the main actress has a son. This was to add another layer of emotion. Our group was divided on this decision but a 3:2 vote decided that we would film this story.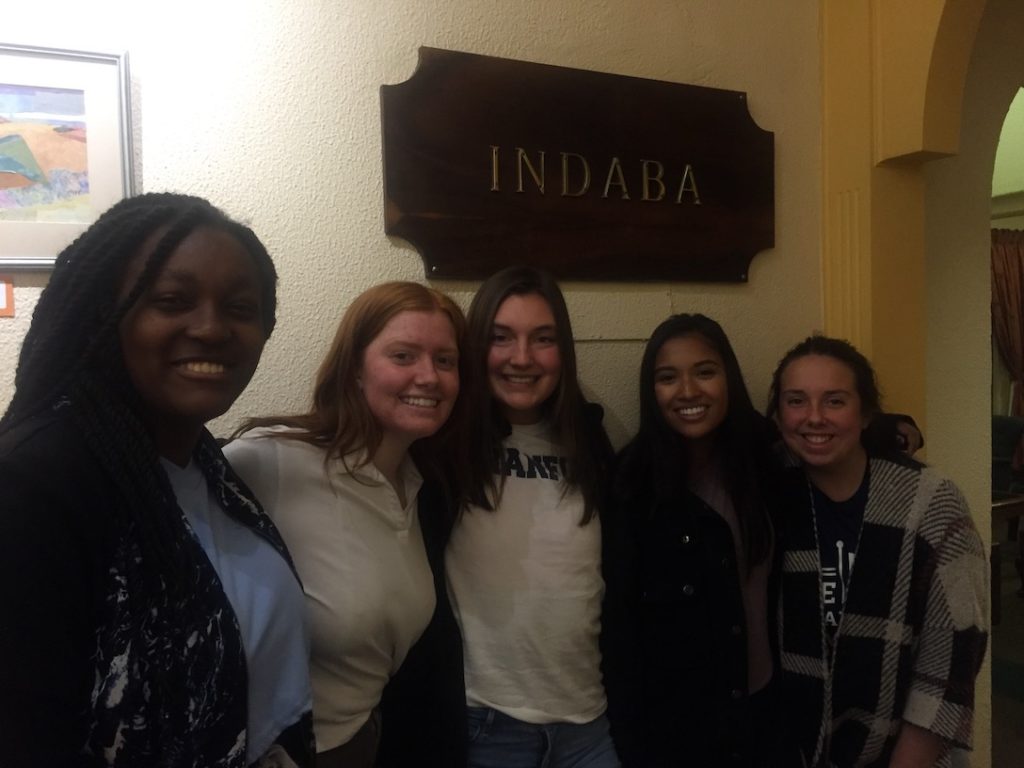 The next step was our storyboard and script. Both crucial to telling the story. One allowed us to know each shot we needed on location to ensure our vision came to life, and the other allowed us to direct our actors so they could tell our story in the way we needed them to. After at least two full days in Indaba, 4 storyboard attempts, and 3 script revisions, we were ready to take our story from paper to life.

Over 4 days we filmed all of our planned shots (and some extra ones too) in a clinic, on a drive, at a house, and at a park, using a total of 10 actors. Each shoot was exhausting. We would re-visit each location, plan the shots, come back to Indaba and print our final list of shots, practice on the gimbal, and then film. After each shoot we would return to the safety of Indaba with a sense of accomplishment and transfer all of our footage. At this point, we would always realise that we had a lot of footage-too much for our little story.

The edit was the first time that I really started to see the story we created. Like the start of the process, we were back in Indaba. This time armed with our laptops, hard drive, and Adobe Premiere Pro, instead of pen, paper, and stick men that didn't look like what they were supposed to most of the time. None of us are art majors-that is a definite. We all edited different sections and put it together to get a rough idea of what it would look like. Then we showed it to our professors. They had a "scalding hot take" on our video; we should end it on the little girl with the necklace and skip the flash forward. At first, I think I few hearts dropped in our group. The small boy was one of our favourite actors and we had some adorable shots of him. But then I thought about it. There is no doubt that he is cute, but the story flows so much better ending sooner. Sometimes simplicity is key. Thank you Thom Pierce for making that so clear during our photography masterclass. Our story will be simpler, but hopefully more powerful. We needed to throw a few ideas at the wall (and film them) before we realised that some were sticking hard and some were peeling off like the tac I used to stick my S Club 7 poster to my bedroom wall when I was 7.

Thank you to the Indaba room. We have had a love-hate relationship. I didn't necessarily enjoy all the hours spent there, but am very proud of our group for the work we have done inside it. Hopefully our story will make it to the UN, but if not, I have so many stories from my peers and professors which were told inside the 4 walls of Indaba. I think I will miss you.
This is quite tidy for the Indaba room after a full day of work