Helen, Wanjiku, and I had been editing the most recent weekly assignment- a short practice film- for 2 hours already when a notification popped up on all our phones. We and the rest of the students were meant to meet outside in 10 minutes for a semi-impromptu photo shoot. It had been a long Monday of classes, conference calls, and inelegantly fist-fighting with Adobe Premiere Pro to wrangle our amateur footage into something resembling a film. I was not in the mood for a photo shoot, but timing is everything and the sun was about to set in the next half hour or so.
So we walked outside and met the others behind some buildings that overlooked the side of the mountain. During our five weeks in eSwatini, our class is staying at the Mountain Inn, aptly named for the stunning views of the mountains that cut through Mbabane's sky. That night, just around 5pm, she was particularly breathtaking, clear of clouds with a mix of warm pinks and cool pastels. The lush green grass sloped down to where our dutiful teaching fellow Paul stood as a model for Jonathan, who kneeled in front of the camera and took sample shots while adjusting settings and position.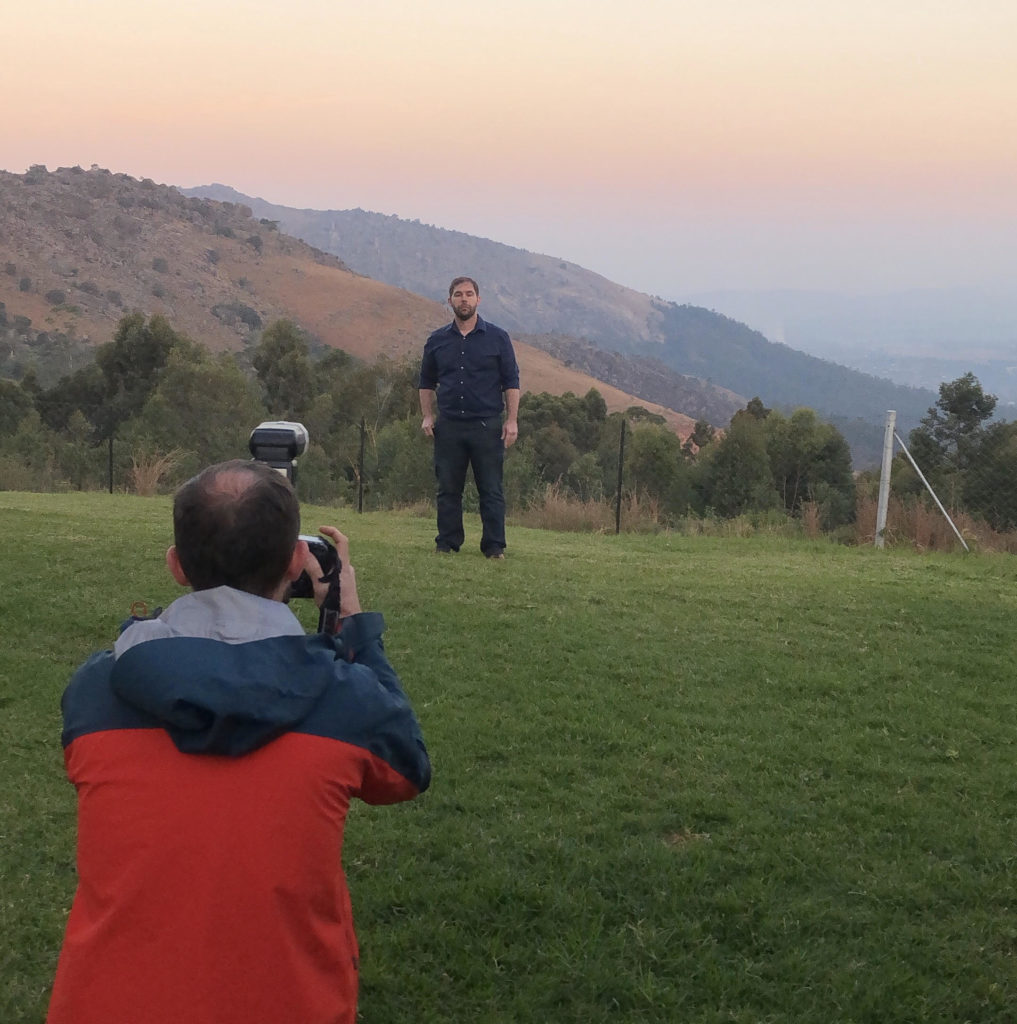 The purpose of the photo shoot was to get uniform profile pictures for this blog, so the students all gathered behind the camera waiting to take their turn in front of it. The walk outside and the humbling presentation of nature's awesome beauty had reinvigorated me, and I went first (having lost a game of nose goes I didn't know was being played). I walked to where Paul had placed a small rock to indicate where to stand, and placed my feet where his had flattened the grass. I looked to the camera and Jonathan behind it, my classmates to the side laughing as I jumped into the air three separate times, kicking my legs up behind me and throwing my arms up with a large, easy smile. Three camera flashes and on to the next person lest we lose the light. Everyone took their turn doing different silly jumps, many eliciting shouts of joy as the perfect shot was captured in midair.
Having finished the original task, it dissolved into chaos as we all ran in front of the camera and began taking silly group photos, jumping and holding hands, climbing on each other's backs, and pairing off by roommates. Paul and Jonathan even joined us for a picture with the help of the camera timer.
It was 30 minutes of carefreeness on a Monday. Just two weeks ago we had all met for the first time, sitting awkwardly around a dinner table in Johannesburg and searching for small commonalities to connect over. Now we knew each other a little better. We had inside jokes, treasured memories, shared anguish over assignments and projects, and, notably, we could get in front of a camera and be ourselves. For me, it was literally and figuratively a breath of fresh air.
Photography can do so many things. That day, it gave us the simple happiness that comes from recording joy at the moment it hits you.