Yesterday, the high in Mbabane was a sunny 79 degrees, or 26 degrees Celsius for anyone in the world besides us stubborn Americans. Generally, the weather never falls outside of the 68-to-75-degree range with a couple of especially chilly days. So, a whopping 79 degrees really made us sweat as Lucy, Megan, and I power-walked up and down (mostly up) the hilly terrain with the sun beaming down on the backs of our necks in a cloudless sky. We finally found our holy grail in the form of a single-family white house, complete with a wonderfully tiled back porch and clotheslines peppered with colorful children's clothing. This house was our filming location for day two and again for day four when we return to wrap up our final day of filming.
We intended on finishing all of our shots at the perfect white house on Day Two, but unfortunately, our youngest actress was M.I.A. and we couldn't film her scene. This ended up being for the best, because we spent all of the time we allotted for our two actresses getting footage for one actress. With five members, project PATH has been diligent about divvying up and changing roles for each scene we film so everyone gets experience with each aspect of filmmaking. While this has been beneficial for our team camaraderie and learning process and all of that good stuff, it also means that sometimes dividing and conquering can lead to disjunction. Because Wanjiku and Helen were practicing using the gimbal for movement shots while the other three of us scouted a filming location, they were faced with the insanely difficult task of applying our planned shots to a location they had never stepped foot in. Visualizing a set from a video shot on my iPhone is incredibly different from actually capturing scenes in person.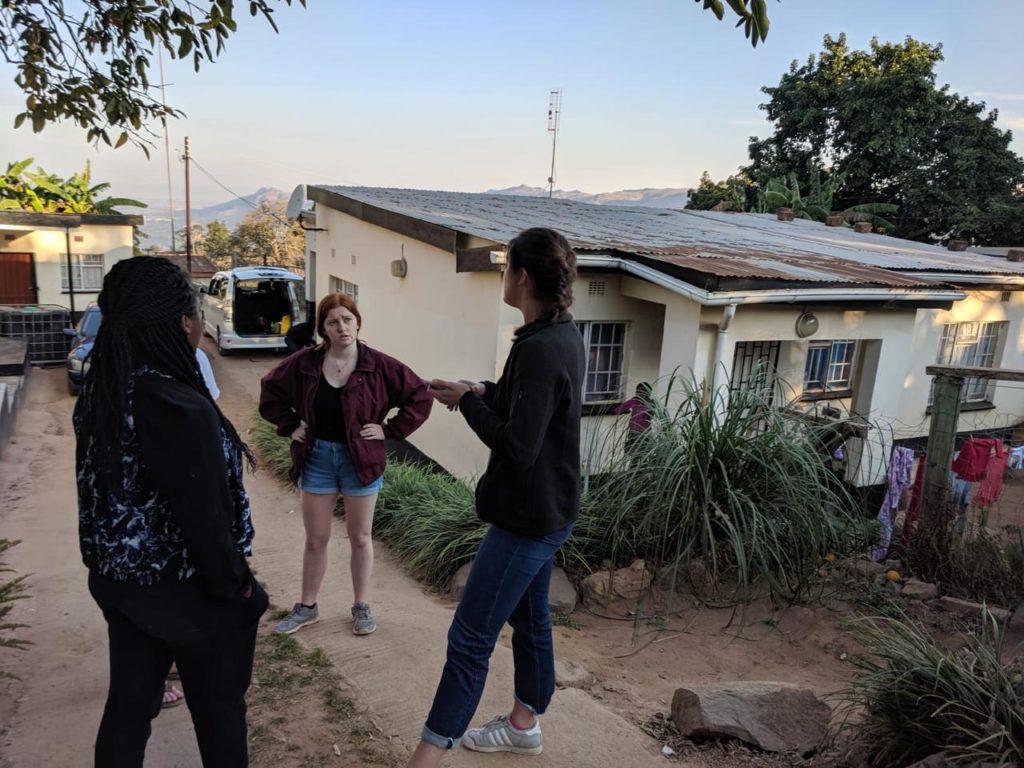 Nonetheless, they did awesome. There is a definite learning curve that we've all had to allow extra time to accommodate the first time we are behind a camera, but unlike my own three-hour shoot, Wanjiku and Helen were racing against a clock set by the sun. We intended to film around 4:30-5:30 pm, which is right about when the sun is setting, otherwise known as "golden hour". Little did we know, in this mountainous region, the sun likes to hide behinds tall trees on an incline and generally be unpredictable. As the sun disappeared behind the house across the street, time was ticking as we tried to capture all of the shots we needed before it was too dark. We split into two teams, with Lucy directing our actress, and Megan and I on the assist. Helen and Wanjiku adapted to the new location quickly and, despite all of our mishaps before and during the shoot, came out with great footage.
Where Wanjiku and Helen had to deal with losing light, Megan and I dealt with relentless UV rays on Day One. The Mbabane Clinic, our first filming location, is a beautiful clinic on the top of a mountain, completely perfect for our video except for the insanely large windows that make up nearly every wall in the waiting room. Amazing to get a panorama of the city, not as amazing as a super bright backdrop for filming at 10 am.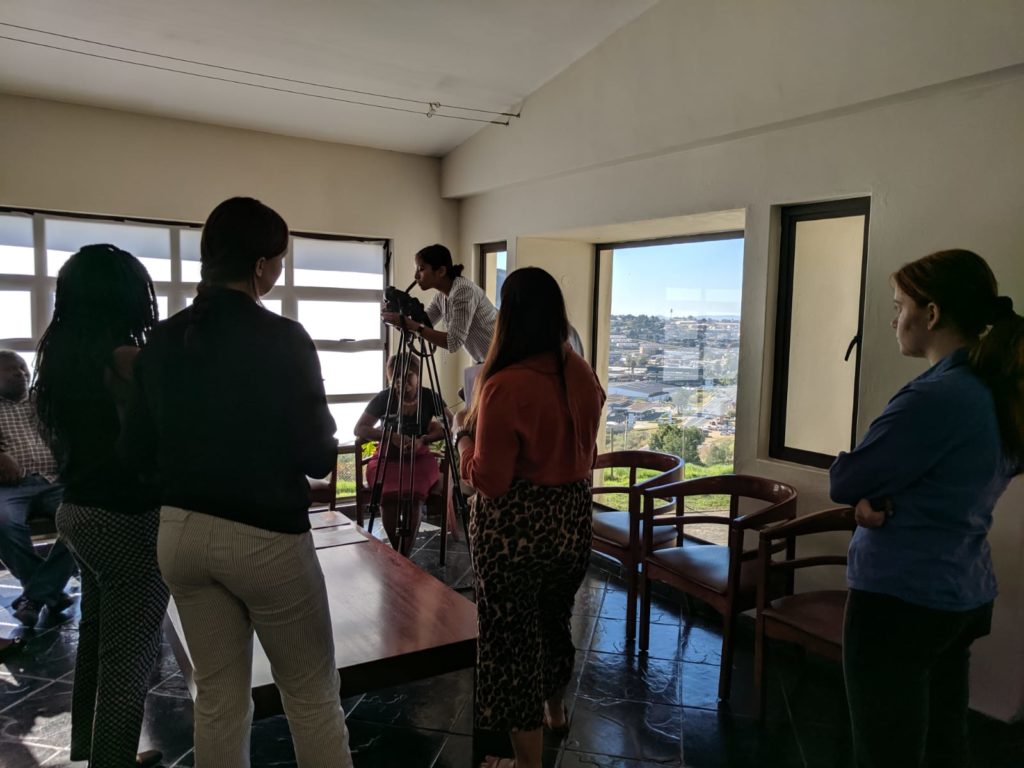 We brought silks with us to cut the light pouring in through the window, which were basically just humorously large pieces of white semi-opaque fabric. They worked out really well for waiting room shots, but outside, you can't exactly tape up a silk to the sun. By the time we moved outside to grab our last shots, the sun had moved pretty drastically and the building's shadow wasn't quite tall enough for our main actress to do a long walk into the clinic like we had originally envisioned. But, you live and you learn, and Megan and I adapted. I used one camera to capture a shorter walk, starting closer to the door to ensure no harsh sunlight was hitting our actress, and Megan worked with Jonathan to test out some more aesthetically creative shots, moving from behind a birch tree to capture her walking in the door through grass (this sounds weirdly hipster, but it looks awesome, I promise).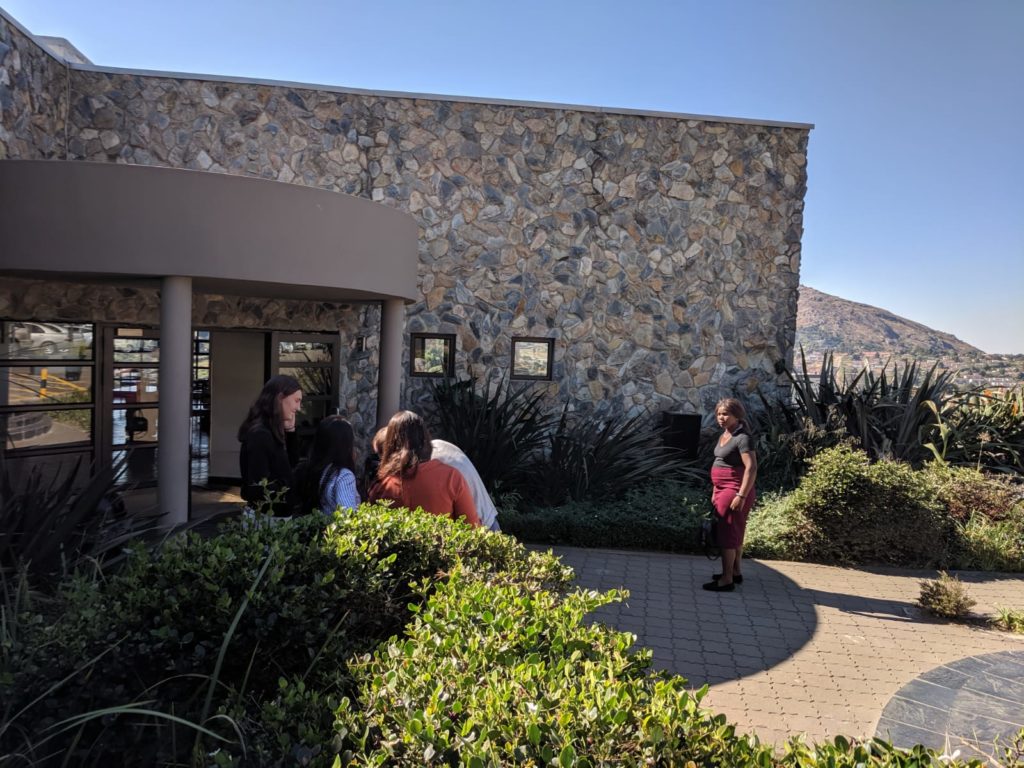 Between our personal battles with the sun, Megan and I had to adjust our plans inside as well, changing locations to accommodate the lighting. On camera, fluorescent lighting flickers, rendering our original hallway location useless. We turned off the switch to try to remedy the unfortunate effect of the artificial lights but this happened to be the only part of the clinic that sunlight did not reach — go figure. However, again, our original misfortune lent itself to a much better solution and our new hallway was bright and futuristic and ended up being an ideal location for our last indoor scene.
Tomorrow will be our final day of filming (Can I get a what what?!) and I will be acting as director, communicating to the actress what angles/motions Helen and Lucy will be filming. Now that my time behind the camera has wrapped up, I'm feeling more relaxed. While I've learned so much in the past few days and appreciate the experience, I definitely don't think this whole film-making business is for me. As much as I may have griped about walking in my last blog post, I actually quite enjoyed the pre-production aspect of our project, and the high-stakes process of actually capturing what we originally envisioned on a camera is just not my thing. One of my biggest takeaways from my time behind the scenes is that pretty much nothing will look on camera the way you see it in person. I've spent the last 900 words or so talking about lighting struggles, but factors like focus and speed and color can all be distorted by a camera. The camera captures what the camera wants to capture, and it's up to the videographer to predict what it will take in and adapt to maximize the quality of what it puts out. Moving forward, I have a much better understanding of what it takes to produce and capture a film.
After all of my talk of scouting locations, one key factor we didn't take much notice to was making sure to visit the locations at the time of the day we would be filming. While we attempted to predict where the sun would be, I I had absolutely no idea where the sun was going to be or even just where the sun is at any given time of the day. This proved especially difficult for us the first few days, but we planned better for the third day. Despite some definite bumps in our filming plan yet again, sun/lighting wasn't actually an issue. Sure, we had to switch locations and film one scene in under 15 minutes, but the sun was perfectly blocked by a billboard and we got our footage. When the sun went down today, we were efficient and got every shot we needed before any rush.
All that is to say, we're learning! Slowly maybe, but surely.